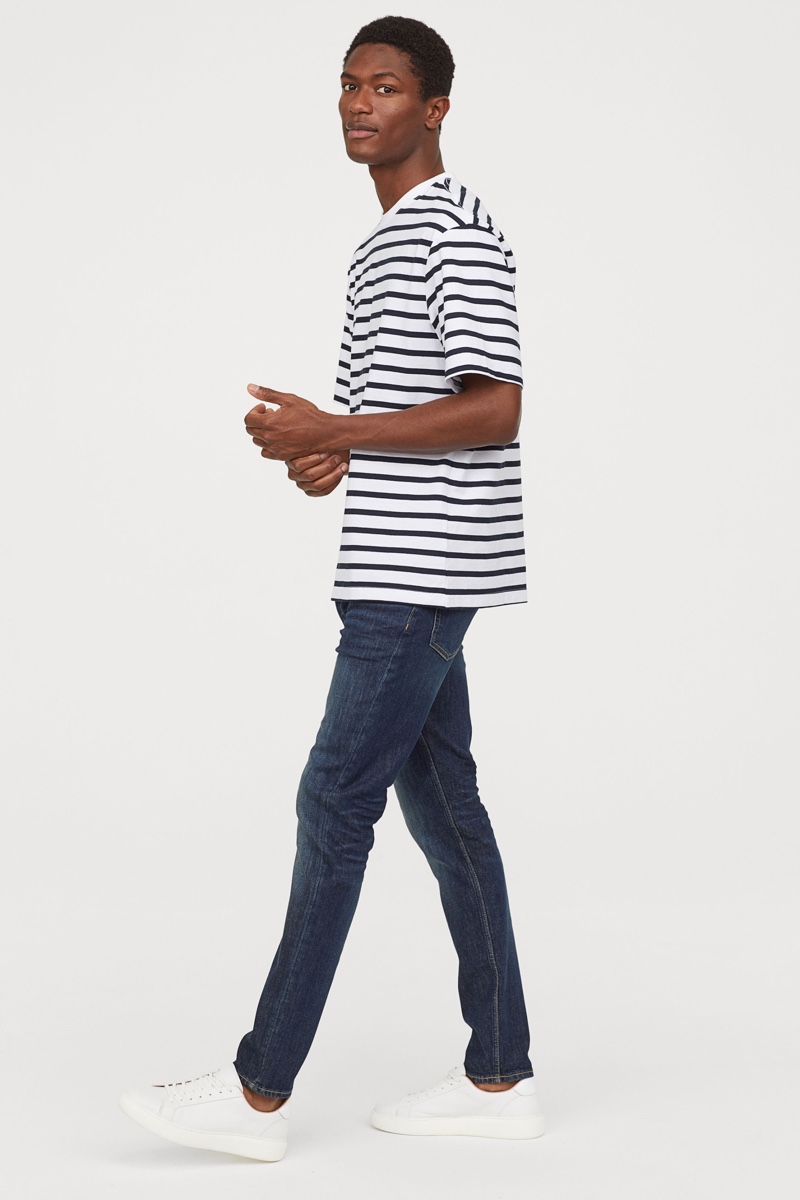 When it comes to everyday dressing and versatility for diverse body types, you can't go wrong with denim pants, especially for a pair of slim or skinny jeans. Jeans are, in fact, so versatile that we can't imagine a wardrobe that doesn't include at least one pair.
From luxury to the high street, and from low rise to high rise, the fashion industry loves denim. Jeans are available in various styles and many different washes, ranging from indigo blue and white to gray and black. Some jeans even come in bold colors like red or yellow.
Slim Fit vs Skinny Fit Jeans
Even though there is a pair of jeans for everyone (with a regular fit and straight leg being typical for the average body type), some types do fit more comfortably than others.
However, it is not always the material that distinguishes one pair of jeans from another, but rather the cut. The cut is the style in which designers make jeans, and today we will be focusing on two styles of H&M's most popular denim jeans for men; the slim fit and skinny jeans.
H&M Men's Jeans
For contemporary style and H&M jeans, you can't go wrong with a slim fit or skinny jeans. However, the names of the two styles are often confusing. Skinny fit jeans and a slim fit seem like they should be interchangeable.
Slim and skinny sound the same, therefore, making consumers wonder about the difference between slim vs. skinny jeans. In case you've been wondering the slight differences between slim fit and skinny jeans, you've come to the right place.
Slim Fit Jeans
Slim fit jeans are tailored to your body by meticulously following the contours of your legs. While the name "slim" may be off-putting to some, slim jeans are more fitted than others while maintaining a high level of comfort and style. Therefore, slim jeans are an excellent style to consider for your everyday life.
What Are Slim Fit Jeans Made of?
Slim jeans are typically made of a durable, stretchy material by the brands that produce them. When it comes to the hem of slim fit jeans, labels, on the other hand, keep up with the latest style and fashion trends, constantly adapting. More recently, boot cut pants have gotten all of the attention in the market, and as a result, most slim jeans you'll see these days will have a boot cut.
Slim fit jeans from fashion brands such as H&M are typically denim fabric, but some models are non-stretch cotton fabric. A pair of slim jeans are ideal for everyday wear because they allow you to move freely while also highlighting the natural shape of your legs.
Slim Jeans Highlight Your Natural Shape
The natural contour of your legs is followed by slim fit jeans, which means your legs won't look like a bag of peanuts or like you're wearing tights because they follow the natural contour of your legs.
Jeans that are slim fit allow your body to breathe, allowing for more room in the legs and thighs. Slim jeans also provide greater mobility for the wearer's body.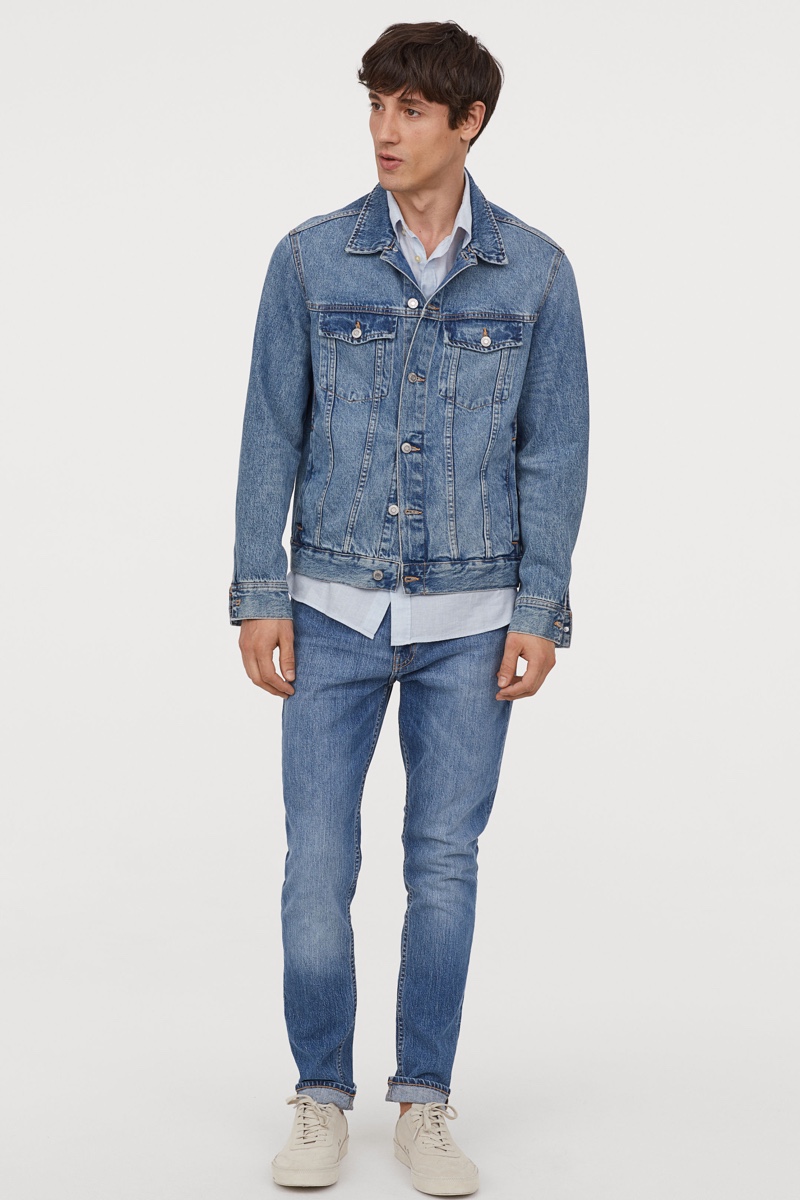 Skinny Jeans
Men often appreciate skinny jeans because they give a tighter fit than slim fit pants. While a slim fit jean may highlight your natural shape, skinny jeans are on a whole other level. When it comes to your legs, a skinny jean acts as a specialist in contouring.
A Tighter Fit for Snug Jeans
Skinny pants have a leg pattern that is tightly tapered and contours to the body shape. Skinny fit jeans are frequently made of a combination of lycra and denim fabric. There is no general bagginess because of the combination of materials, and the pants fit like a glove.
These types of jeans map your legs and draw attention to your curves. Instead of being full, the hem is sometimes tapered instead, giving the appearance of longer, leaner legs.
Is a Skinny Jean Comfortable?
While skinny jeans are fashionable, they are not always the most comfortable option for summer, especially if they are made of denim and lycra. Those two fabrics are not considered to be breathable by the general public.
In contrast, skinny fit pants are a fantastic choice for anyone who wants to enhance or highlight the physical features of their body. Slim is a better choice for everyday wear because it is more comfortable and, when worn correctly, it looks fantastic.
H&M's Approach to the Skinny Jean
From stretch denim to a skin tight fit, these jeans styles are available in various colors and styles at H&M. They are both long-lasting and fashionable and correspond to current fashion trends.
If you want to get a better idea of the type of jeans you are looking for, you should check out their web store, which provides an excellent overview of the various options for jeans available.
Slim vs. Skinny Jeans for Men
Have you ever wondered about the biggest difference between skinny jeans and slim fit jeans? If you have, you aren't alone. At the same time, these two types of jeans are similar, with some key differences.
Before spending money on a new pair of jeans, make sure that you understand those differences to choose jeans that fit you and make you look your best. Because when you wear skinny and slim jeans, fit is an essential detail.
Comfort vs. Style: Skinny and Slim Fit
If you're looking for tight-fitting jeans but still comfortable, slim-fit jeans are a good option. When looking at slim fit jeans vs. skinny jeans, the main difference is the fit.
Slim fit jeans are tight and have a narrow leg opening, but they aren't as form-fitting as skinny jeans. A slim fit with a loose leg opening also has the potential to make it seem like you have longer legs.
That makes slim fit jeans a better option for guys who prioritize comfort while remaining stylish. Slim fit jeans are less tight and allow you more freedom of movement than skinny jeans, making them a better choice for activities where comfort and mobility are necessary.
A Tapered Fit for Popular Styles
Now, if you're looking for a more stylish choice, then you'll want to buy skinny jeans. Skinny jeans feel tight and are designed to show off the shape of a guy's body.
Skinny jeans get narrower from the hip to the ankle, and they're also higher in the backside than slim fit jeans are. However, make sure that you don't wear tight tops when you wear skinny jeans. Varying proportions in the clothes you wear are more attractive.
One easy way to tell if a pair of skinny jeans fit the way they are supposed to be simple is that they're a good fit if they go on like a second skin, thanks to the suitable stretch material. The crotch is also tight-fitting with skinny jeans, which can be uncomfortable, so you should wear a quality brief or go commando.
If you're willing to sacrifice some comfort for style, then skinny jeans may be your best choice when it's time to get your next pair of jeans. Otherwise, you can't go wrong with a pair of slim-fit jeans.